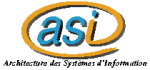 Subject : For the promotion, the project consists in realizing a database management system. My group is in charge of the query engine.
The grammar, established with Interface and

SQL

group, is downloadable : [ PDF ].
The communication functions designed and approuved by each group of the project : [ PDF ].
The abstract types, wanted by

SQL

group and designed by mine : [ PDF ].
The final presentation of our work is here : [ PPT ].
The final version of the grammar, at the end of the project is here : [ HTML ].
The report of our job on the database management system : [ PDF ].
if (function_exists('social_bookmark')) { social_bookmark(); } ?>